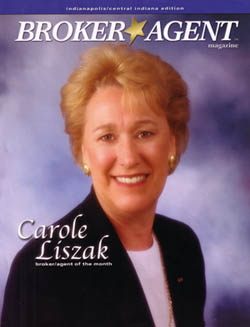 The Liszak Team: Putting it all together
"If you appreciate and enjoy people, this business works itself. Whether working with the CEO transferring for the fifth time, the first time buyer or a past client buying the third house because of an expanding family, the focus is on the individual."

So says Carol Liszak, the founder of RE/MAX Legends Group' Liszak Team. Judging by the team's success, that formula of focusing on personal relationships works very well.

Carole, with almost twenty years on the Indianapolis real estate scene, dedicates herself to education and staying up on the latest trends and techniques. After seven years in the corporate world working for the Stouffer's food Corporation, Carole realized she needed to stay home with her children. So for the next seven years she was a stay-at-home mom, actively involved in the community, PTO, her church and the neighborhood homeowners' association. That dedication to her community and family is the reason she turned to real estate and is the reason that she developed a powerhouse team that comprises herself, Marie Larsen and Lynne Burns.

"I worked by myself for a long time," Carole says, "and it got to be too much. I've gone to RE/MAX conventions and spent the entire time on the phone. I knew I had to have some help." Her first step about 5 years ago was to hire Lynne, who became Client Care Specialist. Lynne had a family and was looking for a part time position."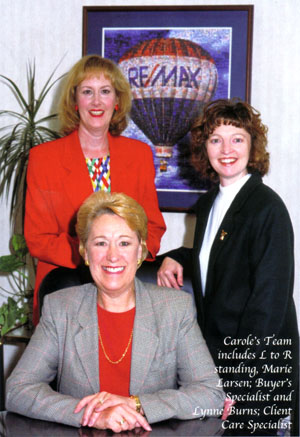 The next piece of the Liszak Team puzzle to fall into place was Marie. Marie had been working for a former RE/MAX Vice president who encouraged her to get her license. Once she had her license she interviewed several agents before joining Carole and Lynne.

As part of the introduction, Carole and her husband Al went out to dinner with Marie and her husband Paul. Carole thought that it was important for everyone to meet as she believes that real estate is a lifestyle, a way of life that affects the whole family. The evening's conversation was centered around real estate and then turned into where they grew up, Michigan. Further conversation revealed that they were all transplanted alumnae of Michigan State University.

What has developed among the three is a business relationship that has a clear foundation of friendship.

When asked about the composition of the Liszak Team and the members' respective responsibilities, Larsen responds with a laugh, "Lynne tells us what to do, and we do it."

Liszak confirms the truth behind the laughter. "Lynne manages the office and all of the details to the office. Her background was in publishing, and she takes care of our marketing. She designs our brochures and she's our computer guru, taking care of the Internet marketing. We do a lot of relocation business, and Lynne often takes care of those clients from the first contact until they come to town. She's just terrific." Lynne is also responsible for the team correspondence and pending properties.

Marie is the Buyer's Agent who has the wonderful skill of making everyone comfortable with the buying process whether they are first-time buyers, transferees or past clients. Marie has developed a sophisticated system to keep track of buyer's needs. "We keep detailed notes on all our prospects and buyers," Larsen says. "All the information is laid out in a specific format, so whoever answers the phone has everything at her fingertips." Marie is also a firm believer of follow-up and attention to detail for client satisfaction.

The result of that system is a personal touch that some teams tend to overlook.

"One client in particular gave us a compliment. She said 'Every time I called, whoever answered knew me and my needs,'" says Liszak. "She wrote us a very nice note that said, 'You certainly exceeded my expectations even with the glowing recommendation I had gotten about you.' That meant a lot to us as a team."

Carole, Marie and Lynne credit Howard Brinton's Star Power Program for the way the team has come together.

"We went to the University team training, and everything came together at that point," Liszak says. "He told me that I had to let Lynne and Marie take over and do what they did best. That was hard. I was used to doing everything myself, and to give a client away to somebody else….." Liszak confesses that yes, she was a bit of a control freak, and Brinton was absolutely right.

Now Carole can travel and enjoy her family without worrying if the client's needs are being met. She has confidence that Marie and Lynne will handle everything at the office.

Liszak was a member of RE/MAX Platinum Club and Hall of Fame even before she formed her team, ranking in the top five in the state as an individual agent. The team put her into a different category, however, and she presumed she would be out of the rankings.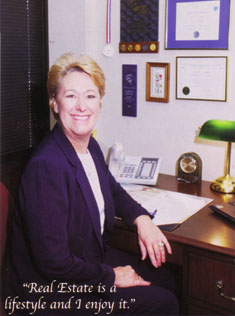 RE/MAX Legends Group colleague Keith Albrecht (subject of the August 2002 Broker* Agent cover) predicted otherwise.

"Keith looked at the list of the top 50 RE/MAX teams in Indiana at the time and listed several we could beat. He was right," Says Larsen. "The last we checked, we ranked thirteenth of the 1400 plus RE/MAX agents in the state of Indiana."

With sales topping fourteen and a half million dollars last year, the Liszak tem proved that Albrecht knew what he was talking about. The team also ranks in MIBOR's top 50 list.

Still, as Larsen says, "We never work on the numbers, the focus is on the people."

"Lynne, along with input from Marie, has put together a wonderful Welcome Box for all of our clients. It has a wealth of information, tailored for each client, about the neighborhood, the schools, businesses and just about everything."

Larsen points out that the team has a special welcome package for first time buyers too. "Marie doees an excellent job with first-time buyers," observes Liszak. "Their Welcome Box has different information from those for repeat buyers." We found that first-time homebuyers need someone to educate and show them step-by-step how to buy a home, from the purchase agreement to the closing table. Marie is a great teacher and enjoys working with first-time homebuyers and repeat buyers alike.

They have also found that many of today's clients are quite computer savvy. With the use of e-mail and their many web sites, they have been able to enhance their ability to market listings. They also have been able to assist relocation buyers by sending them listings via e-mail prior to their visit making their home selection easier and less time consuming.

Repeat buyers, referrals and relocation constitute nearly all of the Liszak Team's business. "I have so many former clients now. Some of them are on their second and third purchase. I just closed one last week for a family who is moving into their third house with me. Their family is growing, and I've kept in contact all along," says Carole.

Liszak started in real estate in 1984, right here in Indianapolis. "We chose to stay here. My husband's company wanted him to move, and he declined. We just love the lifestyle. The people are the greatest. People will wave at you, talk to you. I told one client that and he told me that if someone waved at us in the neighborhood we were traveling to, he would buy a house there. Sure enough, as soon as we turned onto the street, someone out working in the yard waved at us, and he bought the house."

Carole and the Liszak Team's business has always concentrated on the north side of the metropolitan area, including Fishers, Noblesville, Carmel, Zionsville, and Pike, Lawrence and Washington Townships, along with the Geist area. Home sales in Brownsburg and Avon are becoming increasingly common as well, and Liszak says that the resurgence of downtown has also been a boost to her business, along with the real estate market as a whole.

The Liszak team is fully involved in RE/MAX's campaigns to support the Children's Miracle Network, and a portion of the proceeds from every sale goes to those efforts.

Along with team concepts, Liszak has learned that it is important to reward yourself every once in a while. This past fall, the three team members treated themselves to a quick shopping and recreation getwaway to Chicago, and Liszak says, "We had a great time!"

"What makes this team work and the business successful is we enjoy people, we enjoy the work and we have fun doing it," says Burns. "Carole makes the office an enjoyable place to be. She also knows how important family is and makes it easy for me to be a working mom. That's also what makes her a great realtor. She listens and understands client's family and housing needs and has great compassion for their situation. It's not just the buying or selling process, but the logistics and the well being of the whole family.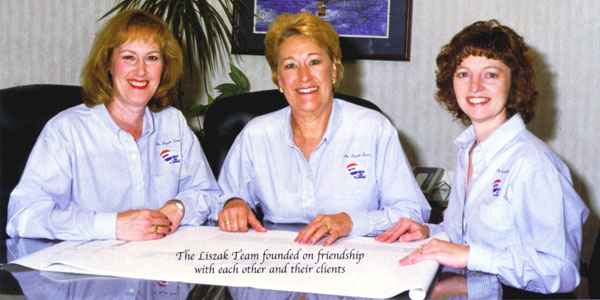 Larsen says, "What's unique about Carole- I was listening to her on a recent transaction. A neighbor had been a big help, watching things for the seller, who was an elderly person. Carole's focus was not just on the transaction- the buyer and the seller- she took the time to thank that neighbor for all that she had done, to tell her how important her caring was. It was such an emotional time, because they had lived next door to each other for the past thirty years. But that's just the kind of person Carole is."

Each of the three members is supported by a wonderful family. Carole's husband Al is a computer consultant, and the couple has two children, Jonathon and Jennifer. Jennifer is married to Travis Funkhouser and has a daughter, Bailey. She is their only grandchild. Marie and Paul Larsen have two children, Jessica, who is married to Bob Coonce, and Jason who is a recent graduate from Wittenberg University. Lynne and Ken Burns have two daughters in elementary school, Chelsea and Samantha.

I think that real estate is a lifestyle. I know the best that I can do is to be out with people," Liszak says. "I understand my client's needs, I know the housing market and I enjoy the opportunity of putting the two together." Obviously the enjoyment and appreciation Liszak speaks of goes both ways.